Shape Shift:
Landscape in motion
Artist Abigail Reynolds is working with a Micropaleontologist, Samantha Gibbs from the National Oceanography Centre in Southampton and a Mathematician, Björn Sandstede from the University of Surrey to highlight the amazing microscopic story of the rocks in and around Durlston Country Park, near Swanage that form part of the 185 million years of geological time along this World Heritage Site coastline.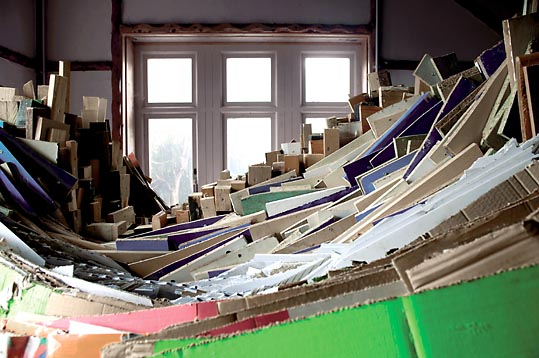 May 2007 - Project update
This title makes clear that the premis of the project that the landscape is essentially fragile and unstable, shaped by a range of environmental factors changing over the millennia and now more rapidly shifting. Our traditional sense of the landscape as more powerfully aloof to human influence has undergone a reversal with cultural acceptance of anthropogenc climate change.
The focus of our enquiry is microfossils, markers of huge climate changes, which comprise the limestones and shales along the local coastline. As these come into being, evolve and become extinct, we see the changing climate in their shapes. In turn plankton are part of the macro-shape of the coastline, part of the story that determines which rocks are hard and will resist erosion, which will collapse into bays and valleys. The consideration of shapes on different scales, as meaningful markers in the landscape is therefore key to the direction of the project.I am now working with two scientists, Sam Gibbs, a micropalentologist from Southampton oceanographic centre and mathematician Bjorn Stanstede from the University of Surrey. With them, I am meeting regularly with a small group from the local community to explore specific points in the local area nominated by the group members. These points in the landscape are gateways into considering the significance of the geology along the Jurassic Coast.
This process, unfolding over the next five weeks before going into production, will result in an exhibition of work over July and August in the front room of Durlston castle (open 12th July - 29th August 1pm - 4pm). This work will be a large-scale sculpture built from recycled materials. This material decision puts the changed power dynamic between homosapiens and the natural environment centre-stage, reminding us that whole landscapes are now created by landfill.
Project Blog
A 'blog' and website will be part of the exhibition package, allowing further access to information for viewers. The 'blog' will be built upon contributions from the local group, educational groups, myself and the two scientists. During the exhibition there will be opportunity for viewers to comment and these can also be added to the informal, 'blog' part of the site."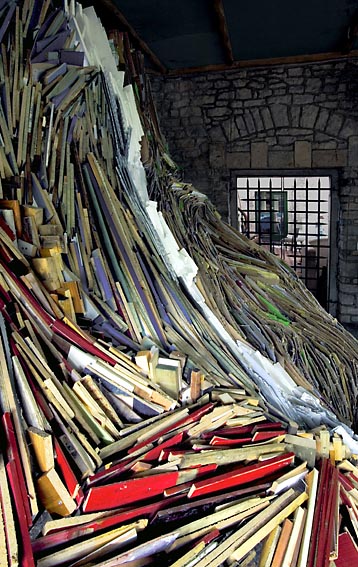 Abigail has set up a blog which can be found at
http://durlstonshapeshift.blogspot.com